Neal's Yard Remedies
Collections chosen according to skin type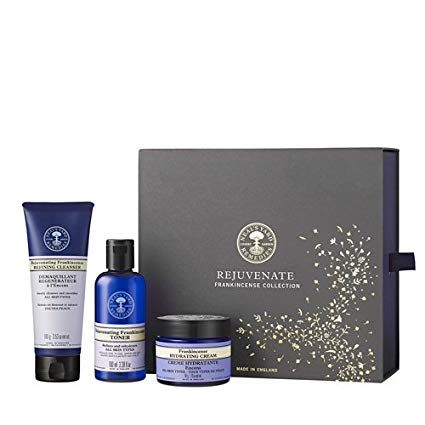 Rejuvenating Frankincense
To smooth and plump the first signs of ageing. 'To rejuvenate, refine and for the first signs of ageing. This collection contains a blend of restful mandarin, soothing bergamot and rejuvenating frankincense essential oils'
To nuture and rehydrate normal skin that's mostly blemish-free. 'It helps restore balance to your skin whenever it feels slightly dehydrated or sensitive. Made with damask rose, this enchanting range helps you maintain a beautifully fresh complexion'
To naturally nourish dry skin. 'Maintaining your skin's natural moisture levels, the collection leaves your dry skin beautifully soft and supple. Our organic neroli- or orange flower essential oil-is distilled from the blossom of a single orchard of Seville orange trees at the foot of the Atlas Mountains in Morocco'.
For beautifully balancing oily skin. 'Minimising the appearance of pores and controlling unwanted shine, our Purifying Palmarosa collection balances skin's natural oils and leaves it more matte, yet hydrated'
For sensitive skin. 'Our soothing starflower collection is fragrance-free and gently hydrates and cares for sensitive skin. Sensitive skin is particularly susceptible to stresses such as harsh weather and hectic lifestyles. Ensuring your diet is rich in antioxidants helps to care for your skin by combating the effect of these daily factors'
Do good
At Neal's Yard Remedies we use natural and organic ingredients, which are free from harmful chemicals.
We test on willing humans and we have never tested on animals.
We are dedicated to trading ethically and we always treat people fairly.
We are an independent family business and we pay our fair share of tax.
Feel good
We campaign for great causes to protect this beautiful planet.
We tread lightly on the earth to ensure our environmental footprint is as gentle as it can be.
Look good
We do all these things so you can feel food and look good naturally.